Selection of Stream After 10th: Arts, Commerce or Science?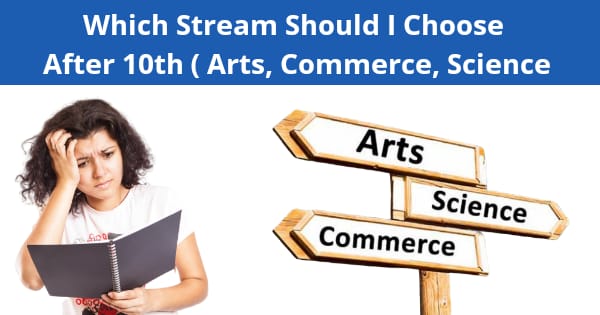 Importance of Choosing the Right Stream After 10th
Are you wondering about your choice of stream after 10th? Should it be arts, commerce or science? Are you perplexed in making the perfect choice for the right stream after 10th? Are you exhausted after meeting multiple career counsellors and school seniors in terms of helping you choose the right stream after 10th? If so, do not panic since we've got you covered about all the necessary steps that need to be taken in order to arrive at the decision of choosing the right stream after 10th, be it arts, commerce or science.
It is essential to understand that the decision of choosing a particular stream after 10th should be entirely yours and should not be imposed upon you by any external authority such as friends, family members, relatives, career counsellors or school authorities. One must not feel pressurized in making the choice quickly in order to please those expecting one to do so. The choice should be made in a completely voluntary and self-motivated state and should align with one's larger goals of professional endeavors and career objectives. If one makes a quick and uninformed decision of choosing the stream that is opted as a higher preference by their friends or close associates and/or does so in order to fulfill familial expectations, then it might affect one's overall engagement levels and self-determined motivation to pursue courses in the given stream of study by maintaining the same level of interest and engagement. Therefore, one must ensure that the stream that they choose for study reflects their personal interests and can be useful in implementing one's competencies and skills. By doing so, one essentially begins their career pursuit with an open mind and preparedness to learn and adapt to changing events in the field with high confidence!
Table of Contents
Importance of Choosing the Right Stream After 10th
An Overview of Three Streams After 10th: Arts, Commerce and Science
Factors to Consider While Choosing A Stream After 10th
A Quick Guide for Decision Making of Choosing the Right Stream After 10th
Popular Institutes Offering Courses in Different Streams After 10th
Conclusion
An Overview of Three Streams After 10th: Arts, Commerce and Science
Once one completes their schooling in 10th grade, they are expected to choose a specific stream from the three available options of science, commerce and arts. The choice needs to be made before beginning schooling in 11th grade in order to facilitate smooth admission process in desired schools or secure admission in the same school one pursued secondary education till 10th grade. In order to make an appropriate choice of the correct stream after 10th from the three available options, here is an overview of all three streams.
Arts/Humanities: The arts/humanities stream is a stream of study after 10th that primarily involves learning about courses such as history, fine arts, languages, economics, political sciences, geography and other relevant creative fields such as English literature, psychology as well as soft skills such as debating, poetry recitation, elocution and so on. Students who possess high creative prowess, a sensitivity towards social and environmental issues, aiming to make a meaningful difference in society and aspiring to take up professions that require understanding and interpretation of texts and literature, argumentation and critical thinking, then one must choose the arts/humanities stream after 10th. These streams require one to develop a keen interest in reading different genres, documenting and journaling about sensitive issues as well as possessing good verbal communication skills.
Popular Career Outcomes: Chef, Professor, Research Scholar, Artist, Writer, Dancer, Psychologist, Historian, Museum Curator, Sculptor, Theatre Artist, Journalist
Skills Required: Logical Reasoning, Laboratory Skills (Psychology), Problem Solving, Creative Prowess, Excellent English proficiency, Verbal Communication Skills, Reading, Editing, Interpretation and Analysis of Texts/Statistic Diagrams, Foreign Language Command, Translation, Journaling/Documentation
2. Commerce: The commerce stream is a field of study after 10th that focuses on training students in understanding key concepts such as marketing, business studies, accounting, entrepreneurship, basic mathematics, ethics and laws of business, economics as well as legal administration. Students aspiring to initiate an idea/objective into a start-up or that of expanding existing family business, or possessing a deep analytical understanding of assessing business performances, finances and accounting including acquaintance with taxation and banking laws must aim to choose the commerce stream after 10th.
Popular Career Outcomes: Banker, Insurance Agent, Sales and Marketing, Chartered Accountant, Lawyer, Financial Advisor/Broker, Real Estate Agent, Hotel Manager
Skills Required: Management, Planning, Conceptualization and Coordination, Teamwork, Leadership Skills, Excellent Verbal Communication Skills, Accounting, Analytical Skills, Street Smartness, Decision Making, Risk Taking, Innovation
3. Science: The science stream is a discipline of study after 10th that primarily involves learning about scientific concepts such as medicine, engineering, information technology, health administration, mental and physical health, disease detection, prognosis, treatment as well as surgical procedures and alternative therapies for healing. A student who aims to advance existing conditions in healthcare and curious about life and living organisms, possessing high analytical skills accompanied with logical reasoning, deeper understanding of concepts such as structures, planning, software operation as well as inclination towards technology and materials must look forward to choose a science stream after 10th.
Popular Career Outcomes: Biologist, Medical Surgeon, Physician, Psychiatrist, Engineer, Architect, Software Developer, Pharmacist, Physiotherapist, Dentist, Scientist
Skills Required: Logical Reasoning, Analytical Skills, Verbal Communication Skills, Elimination, Decision Making, Problem Solving, Sketching/Drawing, Laboratory Skills, Experience in Software and Programming Languages, Technical Skills, Designing
Factors to Consider While Choosing A Stream After 10th
One must consider multiple factors while choosing a stream after 10th. The decision should be made in a self-aware and confident state such that it does not make one regret or fall prey to their decision at a later stage of life. Some common factors that come into play while considering to choose a given stream after 10th include ensuring that one is able to tick all boxes mentioned in the given checklist of factors worthy of consideration before and while choosing a stream after 10th:
Think deeply and thoroughly about your future career objectives, larger objectives in relation to professional endeavors, key interests and competencies as well as innate ability to adapt to new skill acquisition in the given field
Assess your mental preparedness to study about and perform research in the concerned stream of your interest and imagine yourself working in a given field relevant to that discipline in a span of 5-10 years.
Get an overall idea about your financial situation in terms of affordability to enroll in coaching institutes, overall budget for admission in higher education institutions such as colleges and universities as well as annual income of earning family members.
Assess your mental abilities in terms of patience and ability to calmly prepare for entrance examinations for admission in reputed institutions, whether one would be able to retain interest in the given subject with intensive workload, high pressure to complete tasks in a short span of time and adaptability in terms of preparing to sacrifice time of leisure and recreation and whether it would be a fruitful outcome
Do not take a quick decision of stream selection owing to peer pressure, familial expectations, overestimation of one's performance in school or as a matter of potentially acquiring a job position in a prestigious organization with high income rates and other attractive perks.
Take up certificate courses/workshops in the given stream in order to get accustomed to the subjects offered in the stream, practice key concepts introduced in the subjects and assess whether they suit you and align with your aptitude and interest.
Consult seniors/fellow peers with similar interests to get fresher outlooks about the stream with a different perspective. But ensure to not overindulge or completely disregard those perspectives. Consider them to some extent.
Get your aptitude assessment done at a recognized career counselling institute or online.
Check with schools/diploma institutes for possibilities of changing streams in case of loss of interest/change of mind and make the decision of any possible shifts/changes in streams in the given time frame.
Do not hesitate to talk to family members, teachers as well as peers about current state of mind, discuss about feeling pressurized and if needed take a necessary break/vacation before initiating the process of stream selection after 10th.
A Quick Guide for Decision Making of Choosing the Right Stream After 10th
One can easily go wrong with their decision of choosing a stream of study after 10th even after considering multiple factors relevant to the discipline and its nature, personal interests and endeavors, these could include changing of mind, loss of interest, fatigue or boredom with intensive coursework and assignments, observed discrepancies in performance and so on.
In order to facilitate such errors/discrepancies in a smoother manner here are few pro tips to not feel anxious or disappointed with one's stream selection after 10th:
Be vocal and confident about your choice, even if people around you make you feel unsure, less informed or rushing towards your choice of stream after 10th. Assert about your choice/decision by explaining all necessary reasons for implementing it.
Assess and analyze the ongoing market trends in the industry that you wish to pursue careers in, in order to check possibilities of growth and future prospects as well as possibilities of downfall and recession in the given field.
Check your eligibility for multiple career pathways from a stream and then arrive at a conclusion about the most appropriate one for you
Be open to change your stream or take a break/gap year to enter academics with a fresher and open mind for learning
Go for diploma programs in case you wish to make an appropriate decision for the most suitable field of study/stream after 10th and then enroll for schooling in 11th.
Do not feel disappointed with your initial performance in the subjects of your stream. It might improve gradually with guidance/external support.
Be open to accept your mistakes and work on improving them.
Popular Institutes Offering Courses in Different Streams After 10th
Sciences:
All India Institute of Medical Sciences
Indian Institutes of Technology
Birla Institute of Technology
Dhirubhai Ambani Institute of Information and Communication Technology
National Institute of Mental Health and Neuro Sciences
Manipal Institute of Technology
Pandit Deendayal Energy University
National Institute of Technology
2. Commerce:
Indian Institute of Management
Narsee Monjee Institute of Management Studies
Ahmedabad University
Nirma University
XLRI, Jamshedpur
St. Xavier's College, Mumbai
Christ University
Symbiosis University
3. Arts/Humanities:
Ashoka University
O.P. Jindal Global University
FLAME University
Jawaharlal Nehru University
Delhi University
Tata Institute of Social Sciences
NLU Delhi
Asian College of Journalism
Banaras Hindu University
Conclusion
It is important to make the perfect choice of the right stream after 10th in order to avoid loss of interest in concerned subject areas and getting disappointed after making an uninformed and poorly evaluated decision. Therefore, in conclusion if one is looking to choose the right stream after 10th, they must assess various factors on the personal, financial, interpersonal as well as professional levels. Apart from considering multiple factors, one must also look forward to discussing their decision with friends and family members to ensure whether their analysis of the stream in an overall sense is making sense to one and all. In addition, if one ever wishes to change their decision of choosing the stream after 10th, they can do so by informing the concerned school/institutional authorities as soon as possible. Lastly, it is important to make a choice of the right stream after 10th by mapping out the market trends, future prospects as well as growth rate of the concerned industries.