Completing more than 50 years of its humble existence, Lakshmibai College is a place creating women defining womanhood in the most diverse manners possible. Adorned by the life-like statue of the fiery Rani of Jhansi, Lakshmibai, the lawns of the campus seemingly emit a fire of freedom, grit and power that enlightens the heart of each young woman belonging to this college.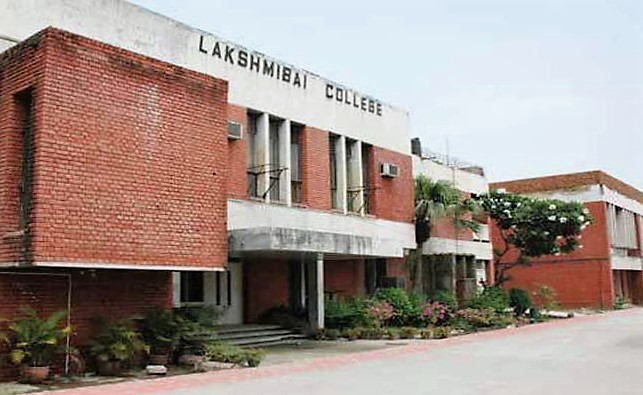 Here is all you must know about Lakshmibai College for women:
"Mere paas hai tu" : North Campus
Oh yes! In proximity with the North Campus, Lakshmibai College is an easy reach with nearest Metro Station being Shastri Nagar Metro Station on the Red Line. An e-rickshaw for ₹10 ride brings you to the gate in a brief blink! (Alternatively, you can also try Kanhaiya Nagar metro station on the red line). Students often connect to North campus hangouts even though the connectivity is a tricky issue.
Infrastructure : Small and Cozy
With a cozy feeling of a small campus, Lakshmibai provides for almost everything a student requires. "The college has already completed 50 years which is why it's infrastructure is not so modern, but that red brick wall feeling is always special", says an emotional Arushi, a student of the colege. Among major infrastructural attractions, the most significant are :-
A life-like statue of Rani of Jhansi, Lakshmibai, installed in the front lawn – one of the busiest places in campus
A library built in two floors with a computerized database and books of diverse streams
Solar indoor illuminaries
Two fully air conditioned lecture theaters
A well equipped Seminar Room
Laboratories for Computer Science equipped with modernized equipments
A canteen, offering delightful food at affordable rates (which, as Sringhika, a student, adds," …has seen improved standards after ABVP came to power".)
Tutorial rooms at the ground floor
"Girls college hai, padhaai toh hoti hi hogi… "
Ji janaab, padhaai toh hoti hai! Keeping away the stereotype, haha, the upscaling academic standards have been aptly proven by University toppers in their respective subjects belonging to this college. Apart from offering a range of courses across the three streams, few add on courses add to the academic richness :-
Certificate course on Women and Legal Literacy
Certificate course for Mutual Fund Agent
Certificate course for International Financial Reporting Standards
Certificate course for Indian Accounting Standards
Certificate course in MS Office and Advanced Excel
Certificate course in Tabla and Kathak
Certificate course in 2D, 3D and Stop Motion (Meet and Greet Course)
Certificate and diploma courses in languages like Chinese, Japanese, German, French and Spanish
About the faculty, Sringhika says, "We have a fairly experienced faculty in all departments. Although some of them are strict while others lenient, the teachers are overall extremely helpful."
Societies at Lakshmibai College
With extremely talented young women, the college comprises a number of societies – each one that you would regret to be unaware of :-
Navrangg, the theatre society, one of DU's best and most vibrant
Sanrakshan, the eco club, because your home is your responsibility
Vivekananda Study Circle and Gandhi Study Circle, to cherish the legacy of the builders of this nation
NESDALF, the society celebrating the Northeastern regions, Sikkim and Laddakh
NCC, the National Cadet Corps
Fine Arts Society, to let your expressions gain a touch
Music and Dance Society to let notes stir souls
"What's up with Sports?"
With sports being given prime importance, students from Lakshmibai reaching National and International levels and earning laurels for the country is certainly no surprise! "We have one of the busiest sports grounds of DU…Sports all sorts, badminton, football – you name it and it's there! Even guys come around to practise, a special permission is required, of course. We have a boxing room above the canteen too…right the beside the NCC room", tells an overexcited Sringhika.
"Ye boring class… Kahan jaaun?" Shhh…
Yeah you lazy morons! It's okay to not have a 100% attendance (but a 66.67% is certainly required, provided that you wish your college to kick you out in three years *with a degree*, haha!).
"Talking about the hangout points , different squads have different points, it also changes with the season…like in winters the all of the girls wing will be seen on front ground lying over the grass taking sun bath, least worried about there clothes or anything (surrounded by girls we chill to the most)", tells Arushi. She adds," The nearest DDA market is another the all time packed hangout zone for Lakshmibai Girls".
Shout-out for Lakshmibai!
– Editorial, University Times