From cutoffs, to running between colleges for admissions, we forget everything. Except anxiety ofcourse. Yes, we keep that close, don't we? We feel you. Delhi University's North Campus is particularly known for its unconventional eating joints. Not the most posh and sophisticated but then, amazing. And guess what? These are pocket-friendly too (yes, because students are always broke) and easily-accessible eateries in North Campus.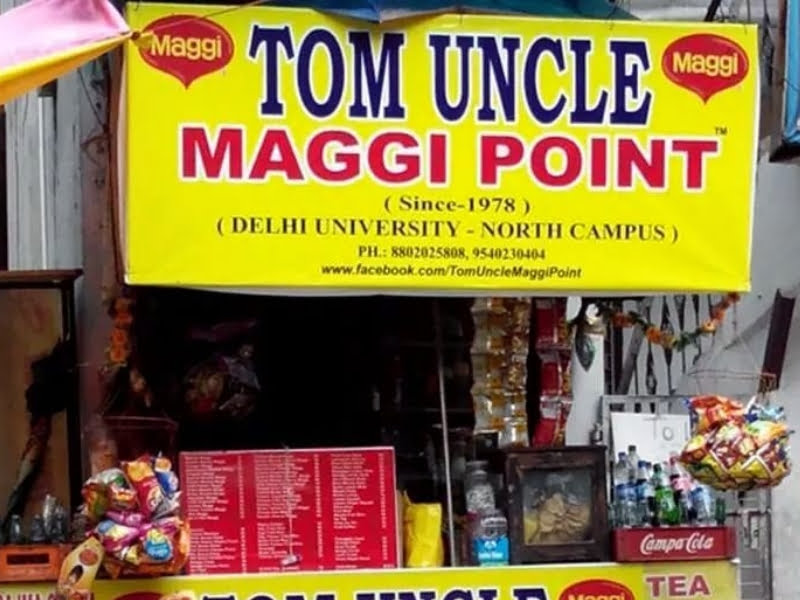 Also one must always have their cheat places to bunk/and or hangout between classes, right?
Scroll on Dear Foodie.
1) Bistro:
This chic tapri or hut(if you may) is known for its amazing shakes. Priced at Rs. 80-100 here, this is a one-stop destination for all the exotic shakes that your heart may desire. Be it Hide and Seek, Nutella Crunch, Brownie-cookie, Ferrero Rocher, mojitos such as peach, kiwi, green apple, iced tea, blue lagoon and/or anything (literally, anything!).  All of these are available in small and large sizes. And ooh they have hot chocolate brownie for some dessert. Need I say more?
Location: GTB and Kamla Nagar
2) Jyoti Food Centre:
You might cross this place a hundred times and  might not even notice it's there. Neglected largely by the buzz of the accompanying photocopy shops. But if you need tasty and affordable Chinese, this is the place to be. No, don't go by the name. The super budget-friendly eaterie is particularly known for chilly chicken dry, pork and chicken chowmein, and fried and steamed chicken momo. Oh, and it home delivers as well!
Location: Patel Chest
3) Shawarma Wala:
This small underground place serves lip-smacking shawarma for 60 bucks. Their self-prepared mayo is delicious (you might want to ask for more of that, but don't because they charge an  Rs.10 extra for it :P). Besides their staple, they have other regulars like soya, egg, aloo, paneer rolls(Rs. 80-100) and abundant chicken roll varieties as well (lemon chicken, kali mirch chicken,chilli chicken, garlic chicken) . So now you know where to head after you've shopped in Kamla Nagar!
Location: Kamla Nagar Market
4) Tom Uncle Maggi Point:
Beware of Piracy. Tom Uncle Maggi Point is famous in North Campus, as also in other places. Located in Hudson Line, DU, this place, like the name suggests, is famous for its different varieties of maggi- from veg, to double cheese to double masala to egg to tomato to everything. Masala maggi is for Rs. 40, whereas double masala comes for Rs. 50. Other flavours range between Rs. 40-60. A coke and maggi here, and you are set.
Location: Near Daulat Ram College, Hudson Lane
5) Sudama Ji ki Chai:
The Tapri with swag. The place is frequented by students, especially during monsoon evenings. Sudama's identity might be obscure, but definitely not the brewing Elaichi wali Malai Chai. Mind you, this is the ultimate place to get hang of college or student politico gossips. Hmmmmmm.
Location: Outside Hansraj Boys Hostel Gate
6) Raju Coffee and Rajma-Chawal:
Undoubtedly, the most under-rated eatery in the campus. The spicy Rajma Chawal is a must, especially because it's served hot unlike your college canteens all round the day. About the coffee you ask? Well, hot chocolate and a tinge of coffee in toned milk brews up into something more than just coffee. Do walk down to this place during Monsoons with your specials.
Location: Law Faculty Pathway
 7) International Student Hostel:
Despite being their immediate neighbours, the place is little known to Khalsa-ites, how sad! (internal screaming). Unlimited food at Rs. 60 (Lunch), Rs. 100 (Dinner) and Rs. 50 (Breakfast) at the Hostel mess. And yes, non-hostellers are allowed. Be aware of timings though, also non-hostellers are permitted entry into the dining areas 15 minutes later. Suggestion: Best day to visit is Saturday afternoon, unlimited Manchurian, Rajma-Chawal, Egg and Paneer Chowmein at Rs. 60! And Non-Veg for dinner everyday.
Location: Adjacent to Mansarovar Hostel, Near SGTB Khalsa College
8) Hindu Canteen:
The canteen is perhaps the superlative epitome of eats in the campus. Placed serenely near the basketball court and the student hostels, the canteen offers a very positive ambience, and quality food at amazingly low prices. Beat that: full plate fried rice for Rs. 30 and Masala Dosa at Rs. 40!
And, if you manage to find yourself a corner table, this shall be the ultimate place for contemplation, or a casual date.Must Eats: Pav Bhaji, Paneer-Naan, and Vanilla Shake.
Location: Hindu College
9) Traffic Jam:
A typical admixture of two scoops of vanilla ice-cream, sliced fruits, dry fruits, and milk (how obvious?). The one of its kind combination is a must, especially at the Arora Juice and Shakes Corner This place with decent open seating spaces is a must visit during winters.
Location: Besides Mad Monkey, Vijay Nagar
10) GTB Cafes:
Beside these small tapris and their dead cheap food, North Campus is particularly famous for its cafés. Cafés like Ricos, QD's ,Hudson cafe, our all time favourite Big Yellow Door, Friends Cafe, Jack and Chill, Spezia Bistro and many more. Ricos has the best waffles, Big Yellow Door has the best chicken juicy burger and shakes, Jack and Chill has the best Chicken and mayo and basil fish, while QD"s has the best tandoori momos. Try a new cafe every month, and you'll probably be done in 3 years. Probably.
Location: GTB Nagar (Exit from GTB Nagar Metro Station Gate No.4)
Are you an aspirant running around in the scorching heat?
Sincere Advice from a senior: Don't forget the eats as you rush for the seats. If you made it here, we hope you have a great (insert food) experience at DU!