Miranda House, University of Delhi is one of the premier institutions for women in the country. Located in the bustling North Campus, the college boasts of a picturesque hostel, a peaceful campus providing the most fitting atmosphere to chill as well as to study, lavish lawns to fulfill your lazy desires, three full-fledged canteens catering to all kinds of tastebuds, and a great faculty and peculiarly efficient administration. Miranda House also bagged Rank 1 in NIRF 2021 rankings, and an A+ in NAAC 2021 ratings. The courses include both Arts and Sciences, for which the college ranks 2nd in Science among national institutes. (India Today, 2021)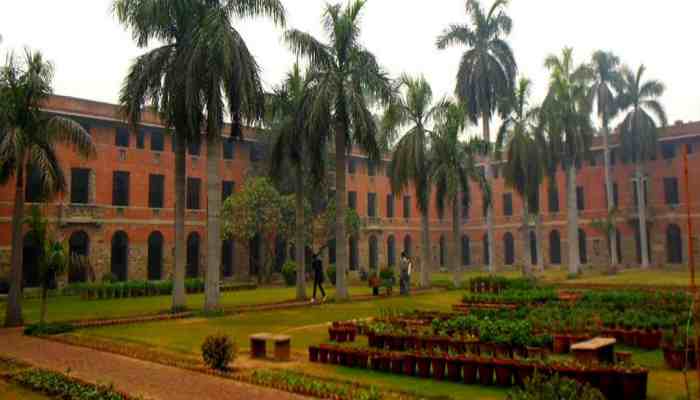 Kidre Jaawan? (and no, we don't mean Khalsa)
Located in North campus, the closest metro station is Vidhwavidayala metro station. It's a short walk from there, but other options like bicycles-on-rent, autos, e-rickshaws etc. are always available.
Duniya mein kahin swarg hai toh yehin hai (Miranda ka Campus!)
Miranda House has one of the cleanest, greenest and the prettiest campuses in DU. Don't trust us, aao kabhi haveli pe; the flower exhibition in winter is bound to dazzle you. A well-stocked library with additional departmental libraries, an enviable hostel facility and pristine labs are some things which set the college apart. Miranda, armed with a main canteen, PAM and Nescafe outlets, and the science canteen, offers a huge repertoire of food choices and will take care of all your food cravings. The Wi-Fi enabled campus has a lot of pretty nooks which students have made their 'addas'. The Nescafe and front lawns are the most popular hangout spots in the winter and see an influx of students wanting to spend a few lazy hours outside while the air is warm.
Ab to jeene do, jeene do (Courses I would like to study?)
The college offers multiple Arts (for those who mind, Humanities) as well as Science courses. The admission takes places through the centralized procedure for admissions into Delhi University, i.e through cutoffs for different courses. The courses offered by the college under different Departments are English, Hindi, Sanskrit, Modern Indian Languages, Economics, History, Philosophy, BA Programme, Mathematics, Political Science, Sociology, Geography, Botany, Chemistry, Physics Zoology, Elementary Education as also Physical Science(Computer Science). The cutoffs for each course are varied, going as high as 99 for courses like Economics, 97.50 for English, 97.25 for History, 97 for Geography and Political Science, 96.67 for Chemistry and 96.75 for Mathematics in the first average cutoffs for 2018-2021. Miranda House has some of the best faculty to offer across the various Departments of the college.
Because a college is much more than academics: A Look at the Societies
Miranda House, as one will find, is a unique combination of academics and co-curricular. The college offers a plethora of choices to explore from in terms of co-curricular, represented by the societies of the college. Every talent is acknowledged. The college boasts of societies such as the Western Dance Society (Tanz), The Indian Music Society (Mridang), Western Music society (Orpheus), The Film Society (Celluloid), The Hindi Dramatics Society (Anukriti), the English Dramatic society (Ariels), Women's Development Cell, Spic Macay, Enactus and many more. You get the drill right? Pursue whatever your heart may desire.
Societies are much more than extra-curricular pursued in college. Societies become family, a thing one may look to when one needs some solace away from academics, even if there are hiccups along the way. The exposure is great, and it always looks good on your CV!
Jashn-e-bahara aka Fests
February, in DU, is synonymous with fests and the college visibly comes alive with the buzz. Miranda's fest, 'Tempest', pulls students from across campuses every year. Star Nights are the most anticipated and never a dissapointment. Department fests area huge attraction too. Others like The Northeast Fest, Diwali Mela etc. are loads of fun and very well attended. Miranda is always abuzz with excitement, with different seminars, workshops, talks, or societal activities going on alongside regular lectures. 
Patakha Guddi (Miranda and Feminism)
It's a common understanding that Miranda House, like every girls' college, is a feminist college. While this may be true in comparison with other colleges, Miranda has its flaws. Yes, the girls have a free-er space to move in and there is a lot more talk about female emancipation, but it's not perfect. It is still a lovely place to study in and grow, and feminism is one of the many beautiful cultures in Miranda.
Bade log, Badi baatein (Notable Alumni)
Miranda is the alma mater of a remarkable number of phenomenal women, many of whom have created a niche for themselves in their fields. We have Mallika Sherawat (remember Laila from Welcome?) and Minissha Lamba, the famous actress and director Nandita Das, novelists Anita Desai and Anuja Chauhan (imagine reading their books in college; feels so patriotic!) are names which need no introduction. Politicians like Brinda Karat and Sheila Dixit also hail from this college. Remember Neeti Mohan who sung Jeeya re, and her dancer sister Shakti Mohan? Yes, they are (star) alumni too, who also performed in Tempest, the Annual Fest of Miranda House.
Miranda is a wonderful place of study. If excellent faculty, engaging societies, great infrastructure and all the other factors mentioned above aren't enough already, we're sure PAM's cheese burger would help you make the decision for yourself.
– Sukriti Kapoor