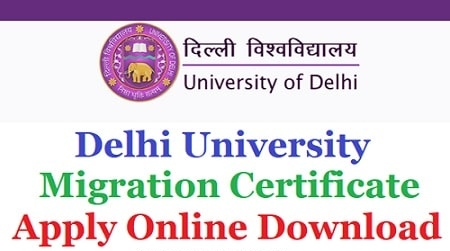 A student who needs a migration/provisional certificate in Delhi University may apply online for the same. Students are advised to follow the following for applying the digital provisional certificate. Register and fill out the online form available on the examination portal of DU website.
1) Upload the soft copy of the photograph and scanned signature.
2) Upload the soft copy of the Marksheet or result.
3) Deposit online non-refundable fee of ₹ 500/- per copy for the issuance of Migration/Provisional Certificate at the Payment Gateway.
4) After completion of the online process including payment of the prescribed fee, the candidate will receive the acknowledgement receipt along with a Receipt number. It means the request of the candidate for issuance of a Provisional Certificate has been provisionally accepted subject to the verification.
5) In case of non-receipt of the acknowledgement, send a copy of the duly filled online application, fee receipt, along with all uploaded documents and email to c[email protected]
The Migration/Provisional Certificate in Delhi University will be issued within ten days subject to the verification of the documents submitted. Students are advised to keep all the information ready before filling out the online form, especially University Enrolment Number. Without this, your certificate will be valid for the purpose you require.
College, Department and Centre students are advised to contact their respective College, Department and Centre Students of Non-Collegiate Women's Education Board (NCWEB) are advised to contact their teaching centres. They can also send an email to [email protected] for any related query.