Established in 1984, Sri Guru Gobind Singh College of Commerce (popularly called SGGSCC) is a co-educational institute completed around three decades. With a modern infrastructure and experienced faculty, SGGSCC offers a lot that might suit one's interest.
Aao kabhi Northwest Delhi…
Oh yes, Northwest Delhi it is! With the nearest metro station being Netaji Subhash Metro Station, SGGSCC lies in close proximity to the TV Tower and (here comes a treat for shopaholics) the Delhi Haat. The Netaji Subhash Place hub is home to countless cafes, restaurants and offices. You know what that means? Opportunities abound!
Academics. Serious Affair? Naah!
Talking with students at SGGSCC, our major takeaway is that academics is a direct engagement. "The college provides a blend of resources and environment for all round personality development of its students. Its goals are in consonance with the fact that national economic and commercial relations are becoming so closely interdependent that meaningful vital changes are being introduced with academic curriculum in the centers of higher learning", says Rohit, a student.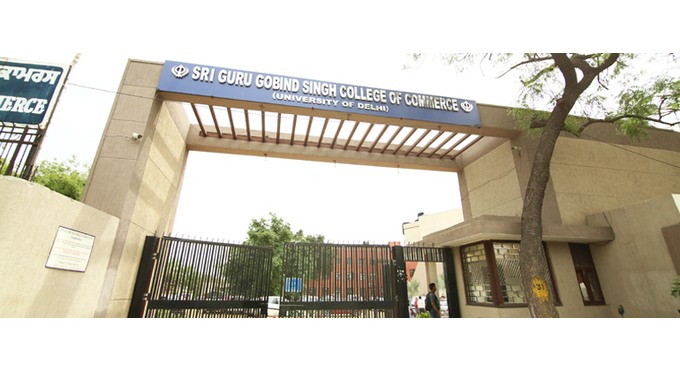 Beginning initially as a Commerce College, SGGSCC presently offers a range of Undergraduate, Post-Graduate, Diploma and Certificate Courses including
• BA Honours Business Economics
• Diploma in Business Journalism and Corporate Communication
• PG Diploma in International Marketing
• Certificate Course in French
• Certificate Course in German
• Certificate Course in Tally Accounting
• Certificate Course in English Language Proficiency
The faculty too is noticeably experienced as Rehmat, a student, says, "We have really experienced professors…some of them have published books which are being followed by the DU curriculum (DD Chaturvedi is our college professor and his economic books are being referred in a lot of colleges."
The college also has an annual publication of its own called 'Journal of Business Thought' which publishes works from both teachers and students.
Infrastructure : Modern yet classy
"Infrastructure is really good since it's newly built…one of the best at DU", says a glad Rehmat. With spacious classrooms and sprawling grounds, GGS is certainly a student-delight. The major attractions include:
• An Art Auditorium, which is fully air-conditioned and is capacitated to hold a fairly significant audience
• Sprawling grounds, with wide open spaces for cricket, volleyball and lawn tennis.
• A library, built in three storeys and home to a varied range of books, 50+ journals, newspapers and magazines
• A gymnasium, for fitness freaks!
• A spacious canteen, offering mouth-watering food at affordable rates
• Spacious classrooms, with a new block already under construction
• Facilities provided for table-tennis and basketball.
Extra-curriculars? Watch us!
Although with extremely promising academic minds incessantly at work, the college's success story doesn't really come to an end there. "College is great! Not only it is counted in top colleges across DU but it's extra-curricular societies are really famous…", a proud Karuna tells University Express. The most vibrant of societies at GGS include:
• Urja, the Commerce Society, taking forward an age-old legacy
• Infinity, the Tech Society of SGGSCC
• FIC, Finance & Investment Cell, A group of finance aficionados and intelligent investors
• BBE & BMS Society – ASBE, nurturing business acumen
• Punjabi Sahitya Society, celebrating the literary richness of Punjabi
• Cultural Society, cherishing the cultural vibrance
• Rotaract Club SGGSCC
• Divinity Society, bringing one closer to its own being
• Misba, the Dance society, to let expressions fly
• Debating Society, to force minds to think and rethink
• National Service Scheme, because we owe it to the nation
So where do we hangout?
Off-campus though it is, but not 'off-fun' certainly. "We have a good canteen…even a CCD inside our campus…plus NSP, the huge market house is just 2 minutes away. So from Starbucks to Subway to KFC and all big names- we have it barely 2 minutes away. Also Delhi Haat is right opposite our campus", tells Rehmat. Another student, Rohit, adds, "...dearest and closest to every GGS goer is of course Netaji Subhash Place, where they find themselves limitless with lip smacking Billu's pasta or Eat Shake Up's shakes and what not…from McD to CCD to Starbucks and Haldirams', NSP has everything a college goer would ask for when hungry." Continuing, he says, "A wide range of cafes also await the freshers to spend some quality time with fellow peeps and enjoy galla time, birthday parties and sizzling dates…not too far is Pitampura Market where they can shop anything and everything that suits their fantasies and needs."
This article has been authored by Tejusvi Shukla, an Alumnus of SGGSCC, Delhi University.
Read: Peek Into DU Course: English Honours