Being a campus ambassador is a deliberate activity and anyone who wants to get exposed to the wider opportunities can enroll themselves in Campus Ambassador Programs as it has become significant to pursue internships and interact with companies to gain practical experience of the corporate culture before actually stepping into it.
What is a Campus ambassador?

A Campus Ambassador (CA) is a representative of a company/firm/organization on his/her campus. Companies basically hire & appoint students from colleges or universities to be their face & voice. They are a link between the students of their university and the company. If a student wishes to contact the company, they can directly talk to the campus ambassador. The campus ambassador program is much more approachable and accessible than the company. They can be of great assistance due to the responsibility they carry.

They are interested and excited about the company, its beliefs, what it stands for, and its work. They also tend to possess leadership qualities, taking initiative, and charge on their campuses. Due to this, they are also influential. They have all the right contacts, with both, students and the faculty.

They will be responsible for organizing fun activities, workshops, conducting promotional activities at a University level, handling social media and email campaigns. Overall, the aim is that you should be able to increase brand awareness among your peers by doing all this.
Roles and Responsibility

There may be different objectives for each company for its campus or student ambassador program. The most common among them are as follows.
developing an in-depth knowledge of products or services the brand wants to promote
building a network of students and teachers in your college using offline and online strategies
ideating and executing engaging campaigns in your college or other colleges in your city
working on marketing plans and carrying out campaigns to generate business for the brand
educating the college community about the benefits of the products offered by the brand
publicizing information by displaying posters on notice boards and sharing them online
organizing varied events like seminars and workshops to talk about the brand's product
conducting marketing and promotional activities using social media promotions
becoming the primary point of contact between the brand and the student community
persuading the students to take part in events that aim to promote the brand's products
developing campus-specific outreach programs and campaigns to increase participation
addressing the queries of students regarding the events, products, and promotions
liaising with the brand's regional representatives to discuss project reports and outcomes
analyzing marketing activity reports and key performance indicators for future improvements
collecting feedback from students and other focus groups to improve marketing strategies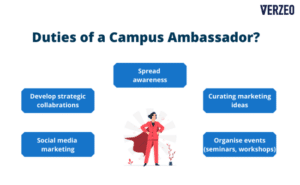 Promoting on campus can often involve methods such as putting up posters, circulating flyers, sharing updates on social media groups, running an information evening or stand, speaking to college officials and Heads of Departments, contacting the Students' Union – along with any other creative, innovative strategy you come up with!
Benefits
Gain Volunteer Experience for your CV/Resume
Plan and Coordinate your own Marketing Campaign
It can help you develop multiple skills such as social media marketing, content marketing, organizing seminars, taking workshops, etc.
You even get to earn rewards such as cash incentives, gift vouchers, and even some cool merchandise.
Campus Ambassador Program will not only help you to upskill yourself and make you a better leader. But, also add a sprinkle of fun in every activity that happens.
If you are performing well and completing all your tasks on time, then they would even be promoting you to the next higher rank.
It provides them with an opportunity to get connected with various like-minded students across various campuses.
Get industry certified for being a campus ambassador
You can use this experience to build a portfolio that can help you impress prospective employers. This experience can also reflect your commitment to learning and working hard. Building a portfolio from a young age can prove rewarding in terms of possessing professional skills.
Are these Programs fun?
If you are wondering whether Campus Ambassador Programs are fun? Then the answer is a YES! Campus Ambassador Program will not only help you to upskill yourself and make you a better leader. But, also add a sprinkle of fun in every activity that happens.
As an ambassador, you will be representing the brand/organization in your University. Therefore, they will pamper you with goodies, incentives, discounts, and even organize fun team meets.
Who wouldn't want to work with their favorite brands and also be pampered by them, right? They will also be organizing fun activity sessions, basically like meet and greets. You will get to meet many other fellow Campus Ambassadors from different parts of the city/country you can share your experience and goals. Most importantly, use this period for better networking.
Mostly, companies that conduct the Campus Ambassador Program follow a Point of Contact system of hierarchy. Programs like these cannot replace internships, but it still presents you with a learning experience.
How is the Campus Ambassador Program different from Internships?

Do not get confused between a Campus Ambassador Program and Internship, they are two entirely different things. Internships are temporary employment. Here, candidates need to perform specific tasks assigned to them. Sometimes, companies also provide the candidates with training prior to the internship so as to make them familiar with the company's working environment and day-to-day processes.
The candidate may or may not be paid for the work done. An internship can last from a few weeks to a few months and can be either part-time or full-time. As an intern, you will be working for a minimum of 40 hours over a period of 5 days.
Campus Ambassador programs provide informal positions to students where the student is not working from the office and is purely assigned the task of spreading the word of the company on their respective campuses.
A campus ambassador is usually expected to work 3 to 4 hours every week, and so it also helps you become a better planner in terms of managing your academic responsibilities along with your campus ambassador work.
They can be paid or unpaid depending on the company. Some organizations may provide technical training to the ambassadors and some may not. It is dependent on the organization itself.
What makes a good Campus Ambassador Program?
You should be very careful about selecting a campus ambassador program to be part of. Not all campus ambassador program is beneficial for students. Some companies use the term "ambassador" as a synonym for a marketing agent. So, choose wisely. A well-managed campus ambassador program will have a clear objective, define responsibilities, a timeline, and a proper assessment strategy. Also, they will be assigned a point of contact for further communications and may have some rewards for the performers.
Where to apply?
Here's a list of sites where you can apply for the Campus Ambassador program
Internshala
LinkedIn
InternIn
Hello Intern
LetIntern
Make Intern
Twenty 19
Things to consider:

Before applying for a student ambassador program

The following things need to be kept in mind before you go ahead and apply for the Campus Ambassador program for any organization.
Do thorough research on the company before applying. If possible, read reviews of the previous students on their website.
Understand the program thoroughly and clear all the doubts regarding the company.
Make sure the organization has a proper performance tracking mechanism. You don't want to do all the activities for the company and in the end not get recognition for it.
Ask the company about how much time you need to invest in a week. You don't want to sacrifice your study because of the Campus Ambassador program.
Understand how they have planned the Campus Ambassador program. Whether they have a clear objective or not.
After applying:
Understand if there is a proper assessment process – There should be a proper and well-defined assessment process for hiring campus ambassadors. If you just received an email saying you have been hired without any prior communication with the company, it is a red sign.
After being hired:
Understand the reward dispatch mechanism – A proper reward dispatch mechanism must be in place for you to avail the rewards. This should be communicated during orientation itself once you join. If not, ask the company to explain it to you.
Ensure that there is a point of contact in the company – Make sure that you have a dedicated point of contact in the company to resolve all your queries & grievances.


FAQs
Q: What are the qualities that a campus ambassador should have?
A: A person who wants to help and give a student perspective on life at the university. He/she need to be able to communicate clearly with groups of between 2 and 50 people and have no problem answering questions from all age groups. He/she need to have the ability to appear bright and cheerful, whatever your real mood, and, most importantly, present a calm, polite exterior. A sense of humor is always good to have too!
Q: Who can apply for this program?
A: Any motivated & proactive student across any department in any year across any University passionate about Leadership Development, learning, creativity, innovation, and information-sharing with strong Interpersonal, Marketing & Communication Skills. A candidate who can plan and execute events, manage a budget, and is actively involved in student life on campus – extracurricular. 
Q: Can someone be removed from the campus ambassador position?
A: Yes, a campus ambassador can be terminated from the program under the following two scenarios:-
They do not meet the minimum bar in terms of performance will be relieved from their responsibilities at the end of the first month.

They are found indulging in any immoral, unethical activities or any other activities we at our sole discretion determine to be inimical to us engaging in badmouthing the organization trying to game the point system.
Read: 10 Benefits of Doing an Internship in College