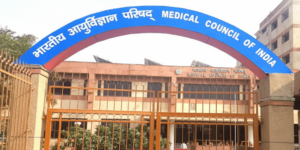 Today, 27 June 2023, NMC is going to conduct a webinar on the NeXT exam that would be held at 2:30 p.m. In this webinar, the Commission will be responding to and addressing all the queries and concerns that will be regarding NeXT exams. It is mainly for all medical colleges and final-year MBBS students.
There was a notice that was issued by the NMC, where all the medical colleges have been requested to attend the webinar. The link for the webinar will be provided an hour before at 1:30 p.m. today for the convenience of all people attending.
Yesterday on June 26 2023 NMC did a mock run a 2:30 p.m. to remove any expected or unexpected glitches that may occur during the webinar. The NeXT exams are known to be somewhat of a replacement for NEET PG 2023 exams for final MBBS students along with for FMGE screening test. Once the proposal that was presented for the NeXT test gets implemented it will serve as a qualifying also as the screening exam for the final-year students of MBBS.
It is known that the exams would be held in two parts – theory and practical, oral and clinical tests for all clinical subjects and disciplines.
The main aim of the webinar that is going to be held today is to remove the stress and anxiety that has been developing around NeXT examinations. It would be hosted by the chairman of NMC Mr. Suresh Chandra Sharma.
NMC has confirmed that the next exams would be held in December 2023 for the upcoming session of 2024 – 25. The minimum qualification required for the NeXT exam is a medical undergraduate degree from an accredited college or university where they must have completed the MBBS course with a minimum of 50%.