College of Engineering Pune Technological University (COEP Tech)established in 1964, has been the premiere institution in making pune the "Oxford of the East". Being the third oldest college in Asia, COEP has proven its superiority and tenacity in cultural activities by winning many awards and laurel at state and national competitions and events. Music, Art, Dance, Acting and Backstage sections imagine and integrate novel and creative ideas, bringing out ground breaking stories and artists!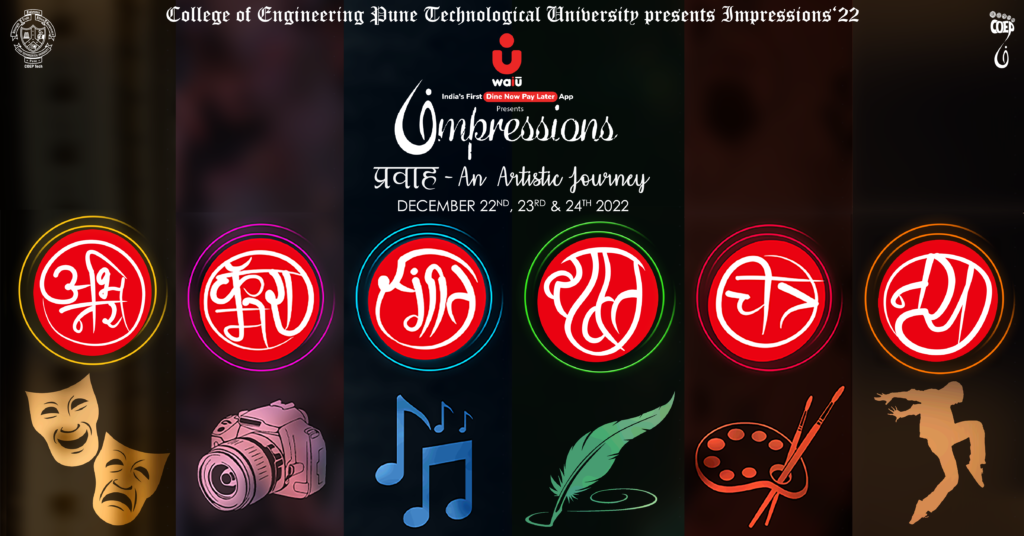 Impressions, the annual cultural fest of College of Engineering, Pune – Technological University (COEP TU) saw its inception in 2016, started with the motto – 'By the artists, for the artists'. It pursued the burning desire for nurturing a diverse and avant-garde space to represent art and talent. Our major belief here at Impressions is to provide amateur artists with a platform that is culturally diverse, artistically creative, and respectfully gracious.
Impressions 2022 is based on one central theme revolving around the evolution of different art forms and is relevant to present times. Art is an integral part of our lives since ancient times. Art has different domains like music, dance, acting, painting, and many more with each having its different forms around the globe.
Most of the classical dance forms originated in temples with aim of worshipping. The roots can be traced from the Sanskrit text – 'Natya Shastra'.
A dance that encompasses Bhav, Rag, Ras and Taal is 'Bharatanatyam'. Possibly, the oldest form of classical Indian dance follows the conception of natya shastra in true spirit and is learned enthusiastically even today.
Kathak is one of the most charming dance forms of India revolving around themes of Mahabharat and Ramayana.
Many dance forms evolved in the western continents too. Hip-hop developed in the United States in the early '70s. The contemporary dance style is considered to also be related to ballet. Salsa is a combination of several Cuban and American dances.
Indian classical music is monophonic in nature and based around a single melody line which is played over a fixed drone.
The performance is based melodically on particular ragas and rhythmically on talas. Purandara Dasa, known as the father (Pitamaha) of Carnatic music, formulated the basic lessons of Carnatic music resting on two main elements like Hindustani classical music, raga and Taal. Many other forms of folk music, Natya sangeet, lavani, Qawwali over the years. Western music was composed by early settlers to the western US and Canada.
Jazz was developed in southern US focusing on instrumental styles. 'Blues' genre captures  suffering and loneliness in the best way. Jazz developed in the United States in the very early part of the 20th century was mostly for dancing.
Various types of paintings evolved in India like Gond painting, Kalighat paintings. Madhubani in Bihar portraying culture, Warli painting in Nashik illustrating nature and social rituals of tribe. These paintings also tell us the artforms present in that specific eras.
Let's understand the evolution of these artforms through Impressions 2022.We aim to attract people towards the artform and increase their inquisitiveness towards the history and knowledge of the artforms!
We hereby present to you the theme of Impressions 2022-'Pravah'- An artistic journey!
With a rise in footfall every year, Impressions continues to organize workshops such as 'Drum Circle','Contentastic', 'Calligraphy workshop' and pre-events such as 'Open mic at Cafe Ri and Ra-The boutique cafe'. With a hybrid mode last year, Impressions
is all set to outdo itself with its completely offline 7th edition through unique events, competitions and Pro shows. Having exciting events and Pro shows planned, we released the theme for this edition 'Impressions 2022-Pravah-An artistic journey' revolving around the evolution of various artforms. We aim to increase the inquisitiveness of people towards various cultures and artforms and appreciate the uniqueness of each.
Impressions'22 comprises mainly of 6 modules representing major art forms namely  Music,  Dance, Dramatics, Art, Camera, and Shoutout. The Drama module consists of competitions like 'Suno-Suno', 'Limelight' and 'Artiskit'.
Music Module comprises of 5 events-'Batte of DJs', 'Saavani'(singing competition),'Stay Tuned'-Instrumental competition,'High current'(competition of music bands) and 'Poona-05′(rap competition).
Dance module consists of events of various forms like 'Street forward', 'Swag desi', 'So Duet', 'Nrityangana' and 'Swagdesi'. Art and Craft module has competitions such as 'Doodly Doo', 'Cirkala','Graphix' in which artists can create magic on paper with their imagination! The  Camera Module has events 'Box office' and "Lens Art'. The Shoutout module comprises of events like 'Andaaz-e-Bayaan'(Shayari competition),'Comiking'(Stand up comedy competition) and many more to bring out your ideas and emotions through art! Impressions has had presence of many eminent personalities like Sachin Pilgaonkar, Pankaj Tripathi, Vikram Gokhale, Sumeet Raghavan and concerts by Anuv Jain, KK,Arjun kanungo, Tulsi Kumar during the fest in the previous editions.
This year Impressions'22 is bringing the biggest event at COEP with a live concert of the one and only "Shalmali Kholgade."
We would like to thank our title sponsor Waiu and our platinum partners Travelpays, Bookitngo, Chingari and our beverage partner Frother for believing in us and upholding with us for this year's edition of Impressions!
Impressions, like every year, is revving up with eagerness to achieve fresh heights as the pandemic fades slowly and achieve a goal of having an even larger community of like-minded individuals living in the art verse.
Join us on this artistic journey on 22nd, 23rd and 24th December 2022!
Registration link for Impressions'22 : https://www.impressionscoeptech.com/events/
Facebook: https://m.facebook.com/impressionsCOEP/
Instagram: https://instagram.com/impressions_coep
YouTube: https://youtube.com/c/COEPImpressions