Beat the Heat by replenishing Summer Drinks
Summer is the hottest of all the seasons. In summer, we need something chilling to refresh us because dehydration is very common in this season. It is a time when the days are longer, the weather is warmer, and people tend to be more relaxed. School is out, and many businesses slow down as people take vacations and spend time outdoors. Summer is a season that is associated with fun, relaxation, and enjoying the great outdoors. One of the things that people associate with summer is the warm weather. During the summer months, the temperature is usually warmer, and people tend to spend more time outdoors. This means that people can participate in activities like going to the beach, swimming in the pool, or simply enjoying a picnic in the park. The warmer temperatures also mean that people can spend more time outside gardening or hiking and enjoying nature. Vacations can involve travelling to new destinations or simply spending time at home, but either way, they offer a chance to recharge and enjoy life at a slower pace. We should eat plenty of fruits but what about those who don't like fruits? No need to worry, we have plenty of options for them.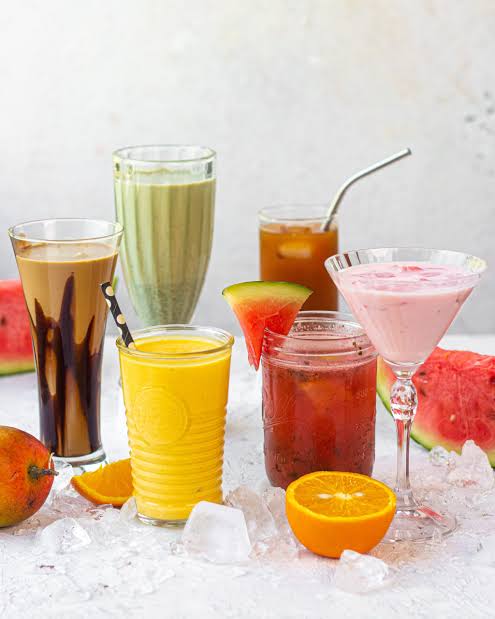 Summer is the perfect time to indulge in refreshing and delicious drinks that help beat the heat. Whether you're lounging by the pool, having a picnic in the park, or hosting a backyard barbecue, there are endless options for summer-inspired beverages that will cool you down and quench your thirst.
Popular summer drinks options are:-
1.Iced Tea
Whether it's classic black tea, green tea, or herbal tea, there are countless flavour combinations to choose from. You can add fresh fruits like strawberries or peaches, a hint of mint or basil, or a squeeze of lemon or lime to enhance the flavours. Iced tea is not only hydrating but also a great way to enjoy the health benefits of tea.
DIY Iced Green Tea with Citrus:
Place the green tea bags in a large pitcher and pour the boiling water over them. Let steep for 3-5 minutes. Remove the tea bags and add the lemon juice, orange juice, and honey or agave syrup to the pitcher. Stir well to dissolve the sweetener. Chill the tea in the refrigerator for at least 1 hour. Fill glasses with ice cubes and pour the iced green tea over them. Garnish with lemon or orange slices and serve chilled.
2.Lemonade
A timeless favourite that is both tangy and sweet. You can keep it simple with traditional lemonade or get creative by adding berries, herbs, or even a splash of sparkling water for a fizzy twist. Lemonade is perfect for hot summer days and can be enjoyed on its own or used as a base for other fruity concoctions.
DIY Watermelon Lemonade:
In a large pitcher, combine the watermelon cubes, lemon juice, honey or maple syrup, and cold water. Stir well to combine. Load glasses with ice cubes and pour the watermelon lemonade over it. Decorate with mint leaves and serve refrigerated.
3.Fruit-infused water
It is another fantastic option for staying hydrated during the summer. Simply add slices of your favourite fruits, such as oranges, cucumbers, watermelon, or berries, to a pitcher of water and let it infuse for a few hours. The result is a refreshing and flavorful beverage that will keep you cool and replenished.
DIY Cucumber and Lime Infused Water:
In a large pitcher, add the cucumber slices, lime slices, and a handful of fresh mint leaves. Fill the pitcher with cold water. Place the pitcher in the refrigerator and let it infuse for at least 1 hour. Fill glasses with ice cubes and pour the cucumber and lime-infused water over the ice. Garnish with additional cucumber slices or mint leaves and serve chilled.
4.Mocktails
For those looking for a non-alcoholic alternative, mocktails are a great choice. These are refreshing and flavorful cocktails made without alcohol. Get creative with ingredients like fresh fruits, herbs, and sparkling water. From a virgin mojito to a fruity colada mocktail, there is a delightful option for everyone.
DIY Pineapple Mint Cooler:
In a blender, combine the pineapple chunks, lime juice, mint leaves, and honey or agave syrup. Blend until smooth. Strain the mixture through a fine-mesh sieve to remove any solids. In a pitcher, combine the strained mixture with sparkling water and mix well Fill glasses with ice cubes and pour the pineapple mint cooler over the ice. Garnish with pineapple wedges or mint sprigs and serve chilled.
5.Smoothies
It is a fantastic way to enjoy the abundance of summer fruits. Blend up a tropical concoction with pineapple, mango, and coconut milk, or go for a berry explosion with strawberries, blueberries and yoghurt. Smoothies are a great option for a quick and nutritious breakfast or a satisfying snack on a hot summer day.
6.Classic Chilled Coffee
Choose options, like iced lattes or cold brew coffee. These caffeinated creations are not only refreshing but also provide a boost of energy. Enjoy them as is, or add flavour syrups like vanilla or caramel to create a personalized coffee experience.
In conclusion, summer drinks offer a wide array of options to keep you cool and hydrated during the hot months. Whether you prefer fruity and flavorful options like iced tea, lemonade, or fruit-infused water, or crave the creamy goodness of smoothies and coffee, there is a summer drink for every taste. So grab your favourite recipe, kick back and enjoy the delightful flavours of summer in a glass. Cheers to a refreshing summer.