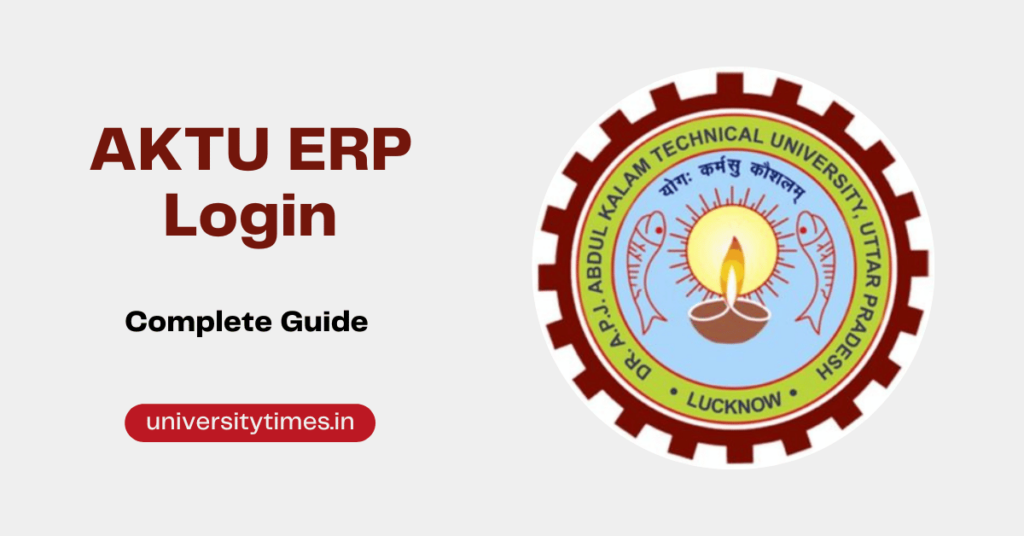 Are you a student or faculty member at Dr. A.P.J. Abdul Kalam Technical University (AKTU)? If so, you may be familiar with AKTU ERP, an online platform designed to streamline various administrative tasks. Let's discover how AKTU ERP can simplify your academic journey.
What is AKTU ERP?
AKTU ERP is an integrated online platform that aims to enhance efficiency and communication within the university. It provides a centralized system for managing student information, course details, examination processes, and more. With its user-friendly interface and comprehensive features, AKTU ERP offers a seamless experience for students, faculty, and staff.
Full Form of AKTU ERP
AKTU ERP stands for Dr. A.P.J. Abdul Kalam Technical University Enterprise Resource Planning. It is a web-based system that enables users to access and manage various aspects of their academic activities. From accessing course materials to checking examination results, AKTU ERP serves as a one-stop solution for all administrative tasks.
Benefits of AKTU ERP
AKTU ERP offers numerous benefits for its users:
Streamlined Processes: AKTU ERP simplifies administrative processes, reducing paperwork and manual efforts.
Enhanced Communication: The platform facilitates seamless communication between students, faculty, and staff, improving collaboration and information sharing.
Easy Access to Information: AKTU ERP provides quick access to essential information such as course schedules, examination dates, and academic records.
Time and Cost Savings: By automating administrative tasks, AKTU ERP saves time and reduces operational costs for the university.
How to Access AKTU ERP
To access AKTU ERP, follow these steps:
Step 1: Go to the AKTU ERP login page: https://erp.aktu.ac.in/
Step 2: Enter your username
Step 3: Provide your password
Step 5: If the provided credentials are correct, you will be successfully logged into your AKTU ERP account.
Note: The login credentials are provided by the university, and you need to have a valid account to log in.
Features of AKTU ERP
AKTU ERP offers a wide range of features to cater to the needs of students, faculty, and staff. Some prominent features include:
Student Information Management
This module allows students to view and update their personal details, contact information, and academic records. It also provides access to course registration and fee payment processes.
Course Management
AKTU ERP enables students to access course materials, syllabi, and lecture schedules. It also allows faculty members to manage course-related information, such as lesson plans and grading.
Examination and Result Processing
Through AKTU ERP, students can view examination timetables, download admit cards, and check their results. Faculty members can manage examination-related tasks, including question paper generation and result processing.
Communication and Collaboration
AKTU ERP facilitates communication between students, faculty, and staff through features like internal messaging, discussion forums, and announcement boards.
One View Portal
The One View Portal is a recent addition to AKTU ERP, aimed at providing a consolidated view of essential information. With One View, users can access a unified dashboard that displays their academic records, fee details, attendance, and other relevant information in a single location.
Importance of One View
One View plays a crucial role in simplifying information retrieval and decision-making. By presenting comprehensive data in a consolidated manner, users can quickly analyze their progress, identify areas of improvement, and make informed choices regarding their academic journey.
Steps to Access One View
To access the One View functionality in AKTU ERP, follow these steps:
Log in to your AKTU ERP account using your credentials.
Navigate to the "One View" section or click on https://erp.aktu.ac.in/webpages/oneview/oneview.aspx.
Explore the different sections within One View to access specific information categories.
Use the filters and search options provided to refine your view and find the desired information quickly.
Troubleshooting Login Issues or Forget Password
If you encounter any issues while logging into AKTU ERP, consider the following troubleshooting steps:
Double-check your username and password to ensure they are entered correctly.
Clear your browser cache and cookies to eliminate any temporary glitches.
Try accessing AKTU ERP from a different web browser or device to rule out browser-related issues.
If the problem persists, contact the AKTU ERP support team for further assistance.
FAQs
1: How can I reset my AKTU ERP password?
To reset your AKTU ERP password, follow these steps:
Visit the AKTU ERP login page.
Click on the "Forgot Password" link.
Enter your registered email address.
Check your email for a password reset link.
Follow the instructions provided in the email to reset your password.
2: Can I access AKTU ERP from my mobile device?
Yes, AKTU ERP is accessible from mobile devices. You can use a mobile web browser to log in to the AKTU ERP website and access your account. Although there is no dedicated mobile app, the responsive design ensures a seamless user experience on mobile devices.
3: How often should I update my personal information on AKTU ERP?
It is advisable to update your personal information on AKTU ERP whenever there are changes, such as a change of address, phone number, or email address. Keeping your information up to date ensures effective communication with the university and avoids any potential issues arising from outdated data.
4: Can faculty members track the attendance of students through AKTU ERP?
Yes, AKTU ERP provides a feature that allows faculty members to track and manage student attendance. Faculty members can access attendance records for their respective courses and monitor the attendance status of individual students.
5: Is there a mobile app available for AKTU ERP?
As of now, AKTU ERP does not have a dedicated mobile app. However, the web-based platform is fully compatible with mobile devices, allowing users to access and utilize its features through a mobile web browser.